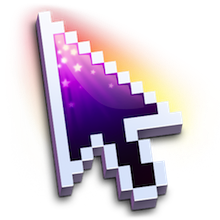 DwellClick lets you use your Mac without clicking. You point, it clicks . DwellClick will drag for you. Point at windows and resize areas to auto-drag, and use the control panel for anything else. Save thousands of clicks per day. Drag hands-free with total control.
What is dwell clicking?
Dwell clicking enables clickless operation of your computer. Just point with your mouse or trackpad, and DwellClick clicks for you.
Why use DwellClick?
By avoiding the repetitive clicking action, you protect your hands from the damage that can build up with long-term computer use.
DwellClick helps relieve RSI and it's also great for anyone with difficulty a clicking physical mouse button, including head-tracker users.